Just Thinking
Just Thinking
You cannot love me enough, so therefore I must love myself more. It is for me to learn to walk alone...to stand alone...live alone and to deal with the emptiness. I relate to the lobo wolf, howling out my pain, wailing beneath the moon. Sitting alone in the darkness.. hearing the wind in the trees and the rain on the roof... feeling my heartache like a purple badge of courage. And loving myself, because you do not love me enough. Great Spirit please grant me courage to love myself enough.
*****************************************
Living in the Present
I find it odd indeed that some teachings try to tell me how to be HERE, NOW, In the Present moment. Where else could I be and how could anything be easier? I cannot be anywhere else but right here, Right Now!
**********************************************************************
My life appears to be 'thinning out.
' Fewer and fewer demands are being put on me, and I am spending a great deal of time at home by myself. This is okay, as long as I accept being alone as much as being with others. I guess the crunch will come when there is 'nothing' to do. Will I be comfortable and content with nothing? The truth is that each time activity appears to have died down, something new arrives on my doorstep. The key is satisfaction — being willing to live with whatever happens but also with what doesn't happen.
*******************************************************
I read somewhere, that the main purpose of death, was to teach us how to appreciate life.
*************************************
Some things are never wasted. Such as love, love is never wasted, to love is good, even if it is not returned. Time can be wasted, however I totally believe that no time that is enjoyed is ever wasted. So I say, "Love much and enjoy life."
***************************************
I watched a grasshopper (a rather large one) outside my living room window. He was there for over a week.... basically giving me the creeps, because I have this irrational phobia of large, creepy grasshoppers. One does not have to like the totem animals that come to give one messages. I knew he was there to tell me something, and would stay until I understood. He was in the process of stripping and eating all the leaves off a Mimosa tree. He just kept at it! He would eat a while, then rest on my window screen a while. He spent days there just nibbling away at that tree.
I'm a bit slow sometimes in understanding these animal spirit messages. I did finally get it though. He was trying to tell me that the medical bills, which I was so worried about, could be handled as he did, eating that tree. He was saying, "Take your time, keep nibbling away at that debt. Pay some and rest inbetween. When you've paid all you can, leave the rest behind as I did a portion of the leaves.
So there you have the lesson of the grasshopper.
Thank you little Creepy Crawly!
**************************************
It has never made sense to me how people tend to become owned by their possessions. Most people spend five or maybe even six days a week working to earn money with which to pay for THINGS. Then when they have a day or two off, they spend that time takeing care of THINGS. It is a mystery to me, just when is it that they have time to enjoy THINGS. I tend to begin to wonder exactly which way is it. Are we owners of THINGS, or do THINGS own us?
****************************************************
Then there's the old Male vs Female thing about the commode seat being up or down. I never could quite figure it out..... And let's face it, it's a female complaint, ...men never complain because they find the seat down. He just lifts it, does what he came to do and leaves. A woman comes in and finds the seat up, puts it down and does what she came in there to do. But there the simularity ends. You better believe she's going to complain, most likely loud and long, and......you can bet she's not going to put the seat back up. Why? Because the guy couldn't care less if its down. Personally I think that's pretty dumb. One of the stupid things people find to complain about that doesn't amount to a proverbial hill of beans.....
so there!
********************************************************
In everyone's life, at some time, our inner fire goes out.
It is then burst into flame by an encounter with another human being.
We should all be thankful for those people who rekindle the inner spirit.
~Albert Schweitzer
That is a thought provoking quote. There are people who tend to sap ones energy. People who have a talent for dampening your spirit with their negative attitudes. When you are happy, they find a way to bring you down, feeling confident they can reduce you to dirt. Now I realize that one is at fault for letting others energy put their inner fire out. Even so, such people are poisonous and it is a wise person indeed who refuses to allow poison into his being or his life.
On the other hand, there are those who lift us up when we are down. In their presence we are glad to be who we are. These are the people who uplift us with their optimism and positive attitude. They are the ones whose very spirit vibrates with love. These are the ones who rekindle our inner fire when it goes out. Sometimes in life, it is the little things that count the most. It's healing to the spirit to receive encouragement, a sincere compliment, or sometimes just a simple hug. The fire within each of us is a thing of our spirit, and to be dis-spirited is to see our inner fire turn to ashes. Yes, we should be thankful to those who rekindle our inner spirit.
********************************************************************
Let every dawn be to you as the beginning of life
and every setting sun be to you as its close.
- John Ruskin (1819-1900)

I'm always adding meaniful quotes to my collection. This one has quite an impact, and there's so much wisdom in those few words. What wonderful advice. Everyday begins with a clean slate, fresh and new, and most of us make an effort to make it as good a day in our life as it is possible to make it. And, if things go wrong, or we do wrong or somethiing outside of our control happens, then with the end of the day, we put it all behind us.... The day is done, finished and complete, along with all the good, the bad and the ugly. Tomorrow is a new day, a fresh beginning. As the saying goes, It is the first day of the rest of our lives.
I wish you a good day.
*****************************************************************************
May you experience each day as a sacred gift woven around the heart of wonder.
© ~Barbara A Bailey~


I read somewhere that the main purpose of death was to make us appreciate life. Sometimes we get so caught up in the daily routine of living life that we don't take the time to really live it, or to realize just how great a gift each moment we live really is. Are we too busy to look for the good and the wonder of it all. Yes life is a wonder, a great marvel. So okay, you are busy, is all that busy-ness really living. Did any of you walk outside last night and witness the wonderful sight of the Harvest moon. Did you take a moment to smell the night air and to just feel the wonder of it all. Not important? We have but one life time in which to experience the wonders of life. Nature is always a source of wonder. People are a source of wonder, even the ones who annoy us most. Take a moment and think on it. There is always something marvelous in everyone, some more than others. Yes every day is a sacred gift, don't waste it....live it, love it, marvel at it and enjoy it.
*************************************************************
Your treasure is deep within you: it holds all you need.
Hui-Hai
I think that all too often we tend to forget just how wonderfully we are made. I refer not to the body, which is itself a wonder; but to the inner spirit, the heart and soul and the wonders of our own brain. What is within, that is, our essence, that beautiful, wonderful specialness. Why can't we learn to listen to that which is within us. Call it in-tuition, call it love, call it wisdom and call it a healthy bit of foolishness. Whatever it is, it is sufficient. Trust in it, honor it and listen to it. It is God within us and...................
IT IS ALL YOU NEED.

********************************************************************************

I've heard it said that life is not a bed of roses...but it is, with all the beauty and thorns all tangled up together. Yes, life truely is a bed of roses.
******************************************************************
My heart is like a tree, with stedfast trunk firmly planted, and roots that run deep; But the branches are heavy, so heavy and they hurt me so.
*************************************************************
"Follow the raven into the shadows and you will find the light."
When I was a little girl, and needed to learn a lesson about life, I usually got my little behind tore up good. Thus I learned early that life lessons can be painful. These days, no one gets a switch to me and stripes my legs ( by these stripes we are healed.) and no one beats me with a belt, but life lessons still hurt. So I guess it still holds true that in life, pain is often the best teacher, for when we hurt, we pay attention, we cry and we scream and we beat the floor with our fists and the lesson soaks in. It seems to take us adults a lot longer, most children get spanked and the message is clear. Clean up your act or more of the same. With these adult life lessons, I for one tend to dwell on them for ages, at least until I understand and learn the lesson. Like putting together a puzzle I lay out all the pieces and try to make sense of them. By doing this I begin to see parts of me that I'd buried in dark corners of my mind. I find things like insecurity, unresolved grief, lack of self confidence, buried anger at everyone who ever rejected me or made me feel unworthy. I realize that I need to stand on my own, that I have no right to ask another to hold me upand that I am sufficient unto myself. I start to study and look for answers and I find things that put the spotlight on all my bad things I didn't even realize that I owned. I learn that anger is really unmet needs, and that I need to recognise those needs and deal with them myself. I am the owner of my own insecurites, my own unmet needs and my own buried emotions. I learn that getting a festering boil lanced hurts and lots of fowl stuff erupts out of it, but by letting it all out into the light, then I can at least see all that was causing all that hidden, inner pain and pressure. There is a saying by an old medicine man, "Follow the raven into the shadows and you will find the light." There must be better ways of seeing into our own shadows than letting our own pent up pressures and corruptions spew out uncontrolably. That way is a destructive, erupting volcano. Yet, the nature of darkness and shadows is to hide what is in them. So I suppose that if pain is the only way to break open the doors to the dark regions, and let in the light, then it's a way of maybe spiritually spanking ourselves. Some lessons are very painful and we pay dearly for what we learn. Sometimes by losing what is most precious to us.
*****************************************************************************
Isn't it amazing and oh so beautiful, how the leaves become so brightly colorful in Autumn, blazing as if with an inner fire. So different than the light green color of Spring folage and the darker green of Summer. It's as if the leaves, all during the previous seasons have been absorbing the light. Storing all the brightness, glory and beauty for a final season of utter magnificence at the evening of their life.
We should be like the leaves, and see each other as such. In this society so centered on youth; It's time we learned that it takes a long time to become brilliant, firey, colorful, and magnificently flamboyant. Why should we be any different than the leaves. Live with the seasons, become one with them. Each one has it's charms, beauty and specialness. In the Autumn of life, be a blaze of glory!.
**************************************************************************
Excerpts from: The Dance
Written by: - Tony Arata
---------------------------------------------------------------------------

Looking back on the memory all the world was right
How could I have known that you'd ever say goodbye
And now I'm glad I didn't know
The way it all would end the way it all would go
Our lives are better left to chance I could have missed the pain
But I'd of had to miss the dance
Yes my life is better left to chance
I could have missed the pain but I'd of had to miss the dance
Life is truly a series of chances. Love is always a risk, but by no means should we ever stop taking that risk. Lovers leave and sometimes they die and hearts get broken, but in the end, it's better as they say to have loved and lost, than never to have loved at all. Rejoice because it happened instead of crying because it is over.
***************************************************************************
GIVE OUT
I heard a friend say , the other day, that she had over done it and was give out. If you aren't Southern, these expressions might be new to you. She meant that she had worked too hard and was exhausted.

We "over do it" when we do above and beyond the energy limits within ourselves. Sometimes it's just that way, when responsibilities, chores and all the "have to's" seem to land squarely on our shoulders. We give and give and give until one day we realize that we are just completely "give out". We've used up our resources and there's no more left in us to give.
This is what happens when we keep giving out, and for whatever reason we don't "take in." To continue giving out we need the renewal of being given to. Being given to includes, having someone who appreciates our efforts, someone who encourages, supports and helps us out along the way. To keep giving we need time for ourselves to take in, to be renewed, loved, maybe it's a hug we need, or a helping hand, or someone to hold us when we cry, we need to take in from the Higher Power, renewing ourselves in spirit, we need rest for our bodies and warm love to ennoble and cheer our hearts.
It's all about balance and harmony, if you give out you must take in, it is nature's law.
********************************************************************************
It would be so easy to quit trusting. So many out there are not worthy of being trusted. But I am convinced that to trust is not a thing of fools but of the wise, for without trust, there can be no love, so then is it not true that love is worth the risk? If I trust, then I cannot make a fool of myself, but the one I trust can become a fool by betraying my trust. To never trust is to never love.
To fall in love is to touch the hem of God, to connect with all that is good.
I want to love like a WagTailPuppy, wholly, trustingly, completely, without conditions or restraints, with my whole mind, heart body and soul, joyfully, no matter what. And I want to be loved like that.
*********************************************************************
Aware
I have time, time to savor just being. I sit for moments on end looking through
whatever lies in front of me and seeing instead that which is within. I listen,
hearing the ringing sound, the chime of sound, the music of the spheres, or is it
the sound of silence? . I'm aware of the streams and tributaries of the river that flows
through my body. I feel the rush and heat
of the flow of it, I hear the beat of my heart and the sound made as my blood
goes through the narrow channels close to my ear drums. My breath like a
warm wind sweeps into my lungs and back out again, joining with the breeze that
causes the trees to dance and sway. I feel my body sitting on the lap of the earth,
smell the grass, smell the dirt, smell the trees, the essences given off by the other
things alive of which I am as one . My life force pulsing, living, breathing,
thinking, dreaming. awestruck at being one with the great whole, the eternal
god-force, a cell in the ongoing creation of the all that is and the all that ever
will be.
Mary Ann Dean
1/15/2007
***************************************************
People are more important than things; but in the end we die
and we leave everything and everybody.
Nothing is permanent,
even the stones wear away and become as sand,
and sand turns to dust and blows away
such is life.
Mary Ann Dean
May 21, 2007
++++++++++++++++++++++++++++++++++++++++++++++++++
I don't know what it is, in the process of human evolution that causes some people to build fortresses when threatened. Fortresses it's true offers protection from our enemies. History has proven that in this context fortresses serve quite well. But what I can't understand is those people who under any threat immediately start constructing fortresses against everyone. In times of feeling any danger to themselves, they build thick inpenitrable walls around themselves. In misguided efforts to protect themselves, they wall themselves away from their true allies. They shut and lock the doors to their fortress, effectively shutting out those who most want to offer their help, love and support. Friends and family are left on the outside leaving the individual to fight his battles alone. From the highest turret of his inpenitrable castle he shouts to the world. "I can fight my battles alone, I don't need anyone." What they never seem to realise is that the enemy is not on the other side of their fortress walls, it is within themselves and it is their own creation. Maybe they see needing love, care and support as weakness. But what they don't realize is that in their misguided need to protect themselves, they have in truth allied themselves with the enemy. What causes this I wonder. Is it false pride or are they truely so self sufficient that they no longer need other people, comfort, careing, love, understanding and help in times of trouble? So in the end all they have left is their pride and dignity, choosing that over love they find themselves in the end standing proud, dignified and alone in the fortress that they built that became a prison where they end up isolated and alone.
***************************************************************
I finally get it!!!!!!!!!!!! Wow!!!!!!!!!! It took me over sixty years to figure out what I didn't know. All those years of trying to measure up to what I thought men wanted...... trying my best to be pretty enough, sweet enough, smart enough, skinny enough, trying my best to please. But finally the light goes off over my head. I't's not me who needs to measure up to their standards and please them.... Lord God!!!!!!!!!!! It never was. All that time I should have been looking for the man who was trying to please me, the one who measurerd up to MY standards. It's not am I good enough for them....It's are they good enough for me.
****************************************************************
I've been busy just living my life lately. It's amazing how quickly one's life can change and the roads taken that bring about these changes. Life truly is a journey. There are roadblocks, toll gates, speed bumps, bad roads and good roads, detours and hazards, and accidents along the way. I've seen the good, the bad and the ugly. What a trip it's been! I can't help but believe that all the roads I've traveled in the past few years, all of which I chose to take, were, in truth, a wonderfully guided tour. All those many roads in route to the unknown destination (I had no idea where they were taking me.) It's turned out to be a journey that's taken me from my past into my future.
There comes a time when the past must be left behind, left as nothing more than memories, like dreams, which often seem unreal. I come to the end of a dead end road and have begun creating my own new road into the future. I've left it all behind, where it belongs. I feel as though I have been born again, fresh and new as the Phoenix rising out of the ashes into a new life. The rest of my life.
I have a new love in my heart and in my life, a new home and new dreams and goals for the future. I AM TRULY BLESSED. I don't yet know where the new roads will take me. I do know that Great Spirit and my Ed will hold my hand and that this journey is the beginning of a wonderful new life.

2008-01-04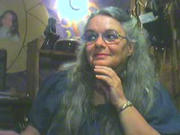 Insert Another Sub Header Here
Insert descriptive text which supports the above header. Insert descriptive text which supports the above header.Insert descriptive text which supports the above header. Insert descriptive text which supports the above header.
Insert Another Sub Header Here
Insert descriptive text which supports the above header. Insert descriptive text which supports the above header.Insert descriptive text which supports the above header. Insert descriptive text which supports the above header.